Message in reply to Marashi (Sagkulai Zadeh), Ali al-Maqdisi in the correct daad, Taktithma Z Egyptians The Mohammed bin Crown bin Messenger Alkirchehri, Alazimiri (d. s)
Assistant Professor Dr. Falah Hassan Gatea
Abstract
That effort voice when Arabs see the impact of a large them in this field, but perhaps scholars Bdhu others in this field; since the Arab scholars of ancient efforts valuable in studies voice showed significant right to absorb firm and briefing deep and early voting, and a speech and its members, as well as they put rules The laws of the votes of Arab characteristics and advantages and relationships to each other, and it appears this is evident with accomplished pioneers of scientists Arab, were Sunni Arabs eloquent straight Do not confuse daad and others, although difficult to pronounce that Kdha scientists, however, that corruption tongues and the prevalence of melody and mixing العجمة of eloquence, missed speech True to this sound, leaving it confined to the public, but Taadahm to employers Alaqra and intonation Venhd Oulu science Atdarqua dilemma works many of structured and strewn; order to remain the Arab tongue retains slogan and glory and splendor, and remains unharmed and intact from aberration pronunciation and ills العجمة and melody . and this message is achieved by means care of the matter, as corrected by the author, Rada, and has shown that the cause of done Remember unanimity, and cut the wrong way, in order to not continue, and save letters Koran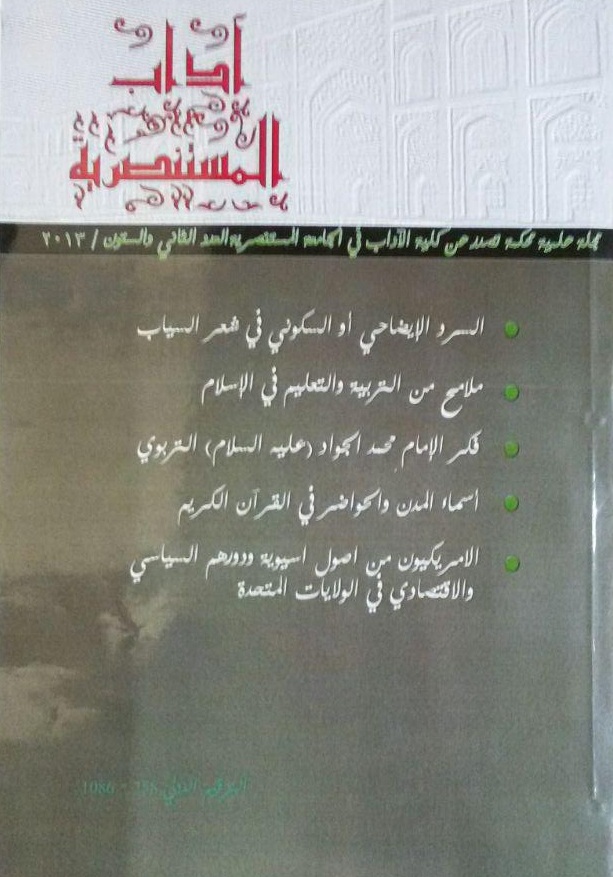 How to Cite
HASSAN GATEA, Assistant Professor Dr. Falah. Message in reply to Marashi (Sagkulai Zadeh), Ali al-Maqdisi in the correct daad, Taktithma Z Egyptians The Mohammed bin Crown bin Messenger Alkirchehri, Alazimiri (d. s).
Mustansiriyah Journal of Arts (MuJA)
, [S.l.], n. 62, p. 1:29, sep. 2018. ISSN 0258-1086. Available at: <
http://amm.uomustansiriyah.edu.iq/index.php/mustansiriyah/article/view/454
>. Date accessed: 09 dec. 2021.
All rights reserved, is not entitled to any person of institution or entity reissue of this book, or part thereof, or transmitted in any form or mode of dodes of transmission of information, whether electronic or mechanical, including photocopying, recording, or storage.and retrieval, without written permission from the rights holders.