The Translation of the Verbal Noun & the Verbal Adjective of –ing Form in Chapter Thirty of the Translation of the Quran of M. M. Picktall & Mir A. Ali
Abstract
The verbal المصدر in Arabic is one of nine types of nouns that resemble verbs. It is a noun which refers to action in meaning, and has no time. It takes different names in parsing (according to the structure of a sentence). The cognate object is one of them.The cognate object is a verbal mentioned after its verb either to emphasize its meaning, to show its number, to show its kind, or to substitute the pronunciation of its verb. The adjective (or the epithet) in Arabic is one of what is called the followers التوابع. The adjective is what is mentioned after a noun to show or to clarify some of its states or what connects to it. The verbal in English is one of the four main grammatical positional classes: nominal, verbal, adjectival, and adverbial. In fact, the verbal of –ing form is a present participle that is used for forming compound tense, nominal, or adjective.The researcher has tried to find the equivalence of the English verbal noun and the verbal adjective in Arabic in the translation of the Holy Quran of Picktall & Ali. Chapter thirty has been chosen to be studied because of its simple and short Suras, as well as having some of Arabic verbals and adjectives. At last, conclusions have been drawn out. The most obvious one is that the Arabic verbal, the cognate object, corresponds to the English verbal noun, the cognate object. And Ali did that more than Pickthall. Another conclusion is the correspondence between the adjective in Arabic and the verbal adjective in English. However, most of the equivalence of the verbal nouns and the verbal adjectives are accusative nouns in Arabic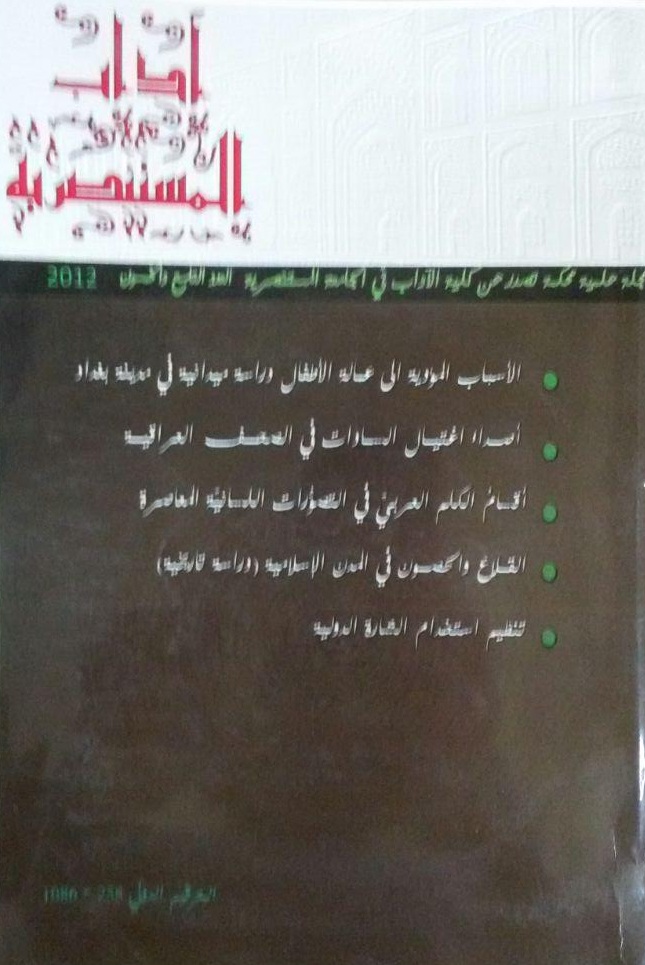 How to Cite
MUTTALIB, Najat Abdul. The Translation of the Verbal Noun & the Verbal Adjective of –ing Form in Chapter Thirty of the Translation of the Quran of M. M. Picktall & Mir A. Ali.
Mustansiriyah Journal of Arts (MuJA)
, [S.l.], n. 59, p. 1-30, sep. 2018. ISSN 0258-1086. Available at: <
http://amm.uomustansiriyah.edu.iq/index.php/mustansiriyah/article/view/587
>. Date accessed: 28 nov. 2021.
This work is licensed under a Creative Commons Attribution-NonCommercial-NoDerivatives 4.0 International License.
All rights reserved, is not entitled to any person of institution or entity reissue of this book, or part thereof, or transmitted in any form or mode of dodes of transmission of information, whether electronic or mechanical, including photocopying, recording, or storage.and retrieval, without written permission from the rights holders.