Cultural transformations in the structure of the modern poetic text Butterfly and Crutch" Hassab Sheikh Jaafar as a model
Abstract
Cultural transformations of the text literary, in recent times, received with some students' interest, given to its importance in uncovering of the cultural dimensions of the artificial phenomena. The technical and substantive aspects have won the bulk of the studies. And we do not believe that we will add some important thing, if we focused attention the aesthetic side of the text or studying it according to external or internal curriculum, without what we have proposed in this research as a cultural, entrance. We hope it be appropriate to determine the nature transitions and background of cultural contexts in which they produced, hence we focused on cultural orientation for the shifts of poetic text. We chose a significant shift that made a phenomenon accompanied with movement of poetic modernity, namely employment of structures in building the modern poetic text. And in intentional methodology we chose the work (butterfly and crutch) of the great poet (Hasab Al-Sheikh Jaafar) as a procedural model to cover the phenomenon, for two main reasons: first, the fact that the texts in this work were built in intentional conscious to recall the narrative side and employ it as broadest recruitment process as could be, which means entire recruitment according to hypotheses aesthetic - cultural and semantic. Second: it maintained the basic necessities for free poetry (rhyme and rhythm), and did not go out on the metric rhythms of al Al-Khalil only in incidental places. This means that the poet wanted intentionally to find areas of interpretation narrative in the language of poetry and its known rhythms. We have tried in our research to trace part of the scene of Iraqi poetry, to refer to the implications of a cultural shift on the structure of the text and its recruitments. We tried also to reveal linking cultural transformations with nearby political and social and economic structures. Then we stood at the most prominent cultural motives of osmosis of paronomasia phenomenon between prose and poetry. We wanted to emphasize the case of compensation for oral features that began to dwindle because of the direct decrease of communication channels with poetry audience on one hand, and cultural march of arts of narrating on the other.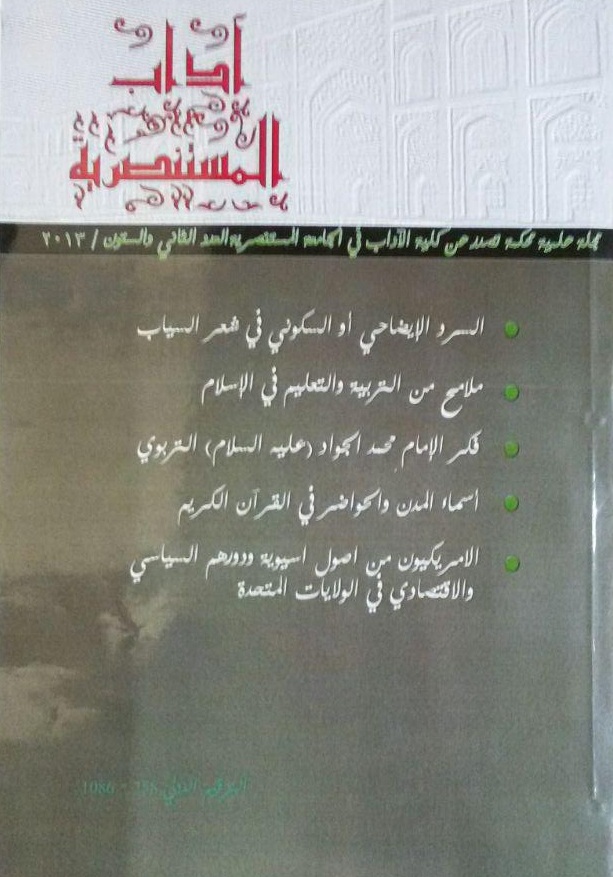 This work is licensed under a Creative Commons Attribution-NonCommercial-NoDerivatives 4.0 International License.
All rights reserved, is not entitled to any person of institution or entity reissue of this book, or part thereof, or transmitted in any form or mode of dodes of transmission of information, whether electronic or mechanical, including photocopying, recording, or storage.and retrieval, without written permission from the rights holders.