Rites of passage Enthropological felid study of death rites in Qalat Salih city - Messan Governorate
Dr. Essmat M. J. AL. Ebad y

Muna H. H. AL. Okaly
Abstract
The research problem in this field enthoroplogical is to study the rites of "Rites passage " of death inlocal urban society and that is Qualat – Salih one of Misan Governorate cities .The research aim to diagnose the concept of "Rites of passage " of "death" which is the last circle of rites passage and the most terified event which can occure to the humanbeing and break him .The study deal with this circle starting from predeath stage and lament of the dead mody ending with barrying and followed by tradition of announcing of death, treating the dead body and caring of his close family by sharing their sadness by the social arrangement of the family, big family, close friends and neaghbors and so on, whom have the sympathetic feelings with the family. The study conclusions :1.The men insist and made it important for them the "will" especially about the money left by the dead person , and the place of barying more than women .2.The lament rite and closing the dead eyes is general , not differ for sex , age groups , especially when reading "ALshateadaten" and Quran parts and praying.3.The dead body "man" washed in the big mosque because there is special for that , while dead " women " and children under ten years of age usually washing rites done in the house , following the same way , no difference of the way in Mosque. 4.After fenoral gatherings (Fawateh) changed according to the social status and arrangement when whealthy and well known families , shakhes leaders can attend these gathering , the relatives and family of the dead person do this gathering in big tents or big mosques halls , the number of attendance usually very big , from the city and outside it cost a lot of money . Some people take this as a show matter and source of superiority and un usually from the normal rites.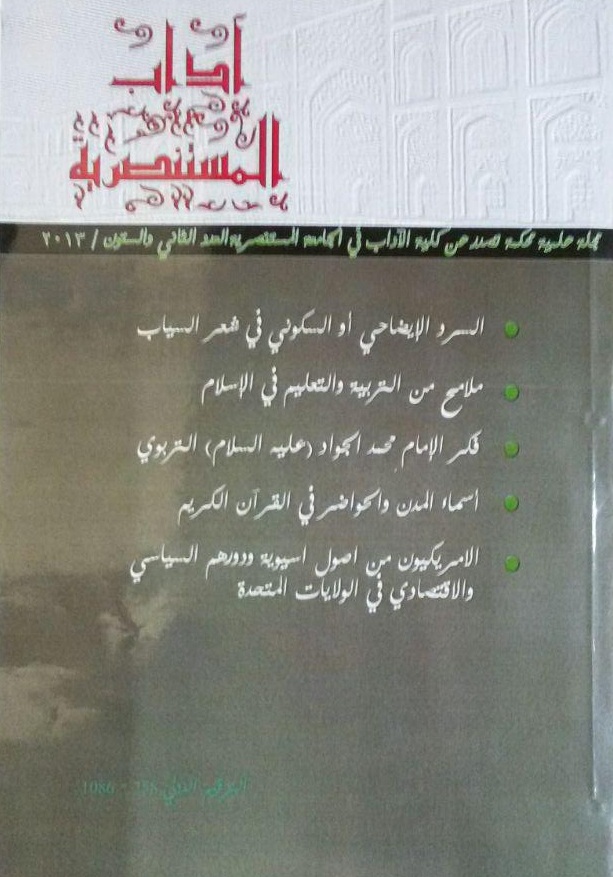 This work is licensed under a Creative Commons Attribution-NonCommercial-NoDerivatives 4.0 International License.
All rights reserved, is not entitled to any person of institution or entity reissue of this book, or part thereof, or transmitted in any form or mode of dodes of transmission of information, whether electronic or mechanical, including photocopying, recording, or storage.and retrieval, without written permission from the rights holders.