The characteristic artest of the lins arabic on the clothing of kabba mosharfa and impossibleity to be employed in curriculum to turn on hand
Abstract
The calligraphy picture drawing alphabets and the expression of form and content assets and the rules of geometric decorative plastic where all kinds of calligraphy are subject to the assets and measurements of linear and that point is an element to measure the types of line, and the line is a form of Fine Arts, which has an important role in shaping emotions and upgrading aesthetic vision.is a system of symbols describing our ideas and knowledge, and writing are used to prepare various documents as deemed artist Arab Muslim Arabic characters and give them appreciation and promise element تشكيليا achieve through motifs that Ahuaha check through rhythms aesthetic purist and of some of their contents.To Qdtzent the Kaaba livery some technical characteristics of the Arab lines of the line and to suit the space and the need for religious and aesthetic of the Kaaba noble and it is the research problem by asking the following:What are the technical characteristics of the lines carried out at the Arab livery Kaaba Is it possible to employ them in handicraft approach?The importance of search as follows:1 - The line in the value of civilizations plastic interpretation thereof optical art.2 - supervising the Kaaba importance as a religious value to contribute, including lines in creating training elements.As objective Seatvicu therefore: disclosure of the technical characteristics of the Arab lines executed on the covering of Kaaba and the possibility of employing them in handicraft approach.The limits were Find Balzmanah by :2011-2012 and spatial boundaries: the Kaaba. As border Moduaao the One was thuluth script and handicraft approach.Researcher addressed several terms, including characteristics - art - lines - Implementation - livery - Kaaba - handicraft.As has been addressed in the conceptual framework first section has been identified technical characteristics of the lines Arabic. Dealt with in the second part, the Kaaba and the third handicraft In the third chapter has been eating the research community is Arabic fonts of $ (50) manuscript executing on the covering of the Kaaba as it was adopted curriculum descriptive a method suitable for analytical research targets these lines were analyzed according to the technical characteristics of the consistency of lines and harmony, unity and diversity of the researcher and then extracted a number of results including:1 - flexible letters and Mtauatha the third line gave the freedom to deal with calligrapher written compositions in the treatment of all the spaces with the help of the great diversity in the forms of letters third line.2 - Property breeding characters sought refuge in third line to the reduction of the letters in words or syllables.The researcher unearthed a number of conclusions, including:1 - the stage of the installation process for اتتطلب accurately without the rules of Arabic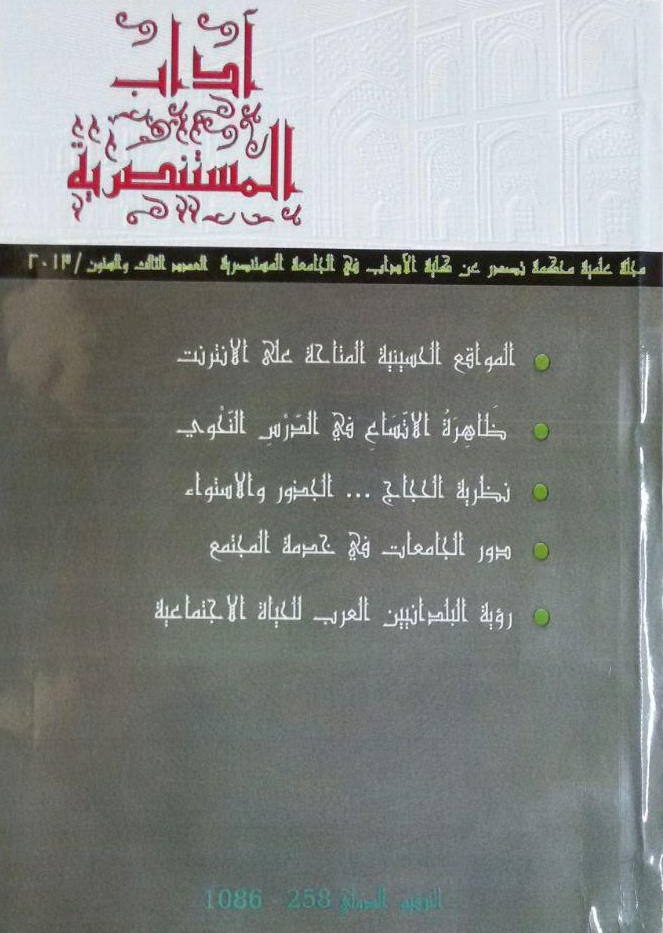 How to Cite
ABDULLA, fatma mohammed. The characteristic artest of the lins arabic on the clothing of kabba mosharfa and impossibleity to be employed in curriculum to turn on hand.
Mustansiriyah Journal of Arts (MuJA)
, [S.l.], n. 63, p. 1:20, sep. 2018. ISSN 0258-1086. Available at: <
http://amm.uomustansiriyah.edu.iq/index.php/mustansiriyah/article/view/470
>. Date accessed: 09 dec. 2021.
This work is licensed under a Creative Commons Attribution-NonCommercial-NoDerivatives 4.0 International License.
All rights reserved, is not entitled to any person of institution or entity reissue of this book, or part thereof, or transmitted in any form or mode of dodes of transmission of information, whether electronic or mechanical, including photocopying, recording, or storage.and retrieval, without written permission from the rights holders.